After the successful opening of its branch in Doha-Qatar in April 2002, Techwater International "Watertech International Previously" a leading company in water engineering, established in Lebanon since 1990, takes pleasure in announcing the opening of its branch "Emirates Watertech" in Abu Dhabi and Dubai UAE.
Techwater International "Watertech International Previously" follows in the footsteps of its mother company by being the leader in the Middle East in design and construction of Water Parks, Swimming Pools and specially Water Fountains.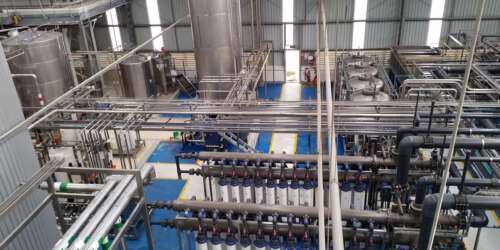 Our in- house landscape architects are always ready to help in making your water feature a unique one. From dancing fountains to out of the ordinary shaped swimming pools, and from custom built waterfalls to small scale prefabricated water fountains, the choices are endless.
"Techwater International" specializes
In the construction of water treatment plants, especially designed for the highly saline and alkaline waters of the Gulf area, as well as sewage water treatment plants, thus positively contributing to the ecological problems of the world, however little that may be.
"Techwater International" specializes as well
In the design and the construction of Health Clubs and Spas. We represent major companies in the business such as, but not limited to: Klafs Germany (Saunas, steam rooms, Turkish hamams, ice rooms…), Somethy France and Hydraco Australia (Hydrotubs, whirlpools, hydrotherapy equipment), Fluvo Germany (Swimming pool jets, pumps and special effect water equipment), Soaf (Sewage treatment plants), NCA (Water fountains), etc…
"Techwater International" Offers its customers additional services and products such as:
Reverse osmosis units,
Ultraviolet sterilizers,
Dosing pumps,
Water pumps,
Chlorinators,
Underwater lights,
Jet streams,
Heat exchangers
And a huge array of tiles, etc…all from worldwide leading manufacturers and suppliers.
We, at "Techwater International", understand that in order to stay on top in this world filled with competition, we need to stretch our services beyond the design and execution of our above-listed activities.
Our team of after-sales personnel is available to insure the satisfaction of our customers by offering maintenance contracts that would suit any and all customers no matter to which of our activities the main service was related.
Including, but not limited to, swimming pools and water fountains, hygienic and electromechanical maintenance as well as health club equipment maintenance.